Do you have a building in a great location? Show it!
TenantButler from TenanTeam is a tool that allows tenants to see how your building's location and surroundings match their needs.
Use our technology and show that you are a good match.
Data-driven choice
The decision about where to work is one of the most important decisions a company has to make. Tenants pay most attention to communication and the attractiveness of the surroundings when evaluating a building.
SaaS
TenantButler is an extension for the website of your investment, thanks to which the tenant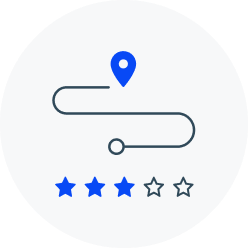 check the quality of the connection to the building using the 4 most popular forms of transport
can ask their team about the needs related to time after work
check how the environment of your building responds to the requirements specified by employees
First of all, technology
Your building keeps up with the times, let your rental keep up with it too.
When you use TenantButler, you get state-of-the-art technology created by TenanTeam. See what your potential tenants can find out.
Communication
sochron
Visual grid of travel times
Public transport
Current data, fastest connections
Traffic volume
Analysis of travel times during rush hours
Transport
Analysis for public transport, car, bike and pedestrian.
Surroundings
good food
after-work time and facilities
sport
transport
car parks